Joined

Nov 20, 2010
Messages

15,688
Reaction score

4,969
Location
Guild Total

8
I saw this already sold ebay auction, it looked like a "normal" Starfire Mini Humbucker from the 60ies:
http://i.ebayimg.com/t/Vintage-1960...ur/$(KGrHqF,!qUFGg(Bd+gdBR0yurIsiQ~~60_57.JPG
Now [Highlight]the back looks different[/Highlight] compared to the once in my SF IV from 1967:
http://i.ebayimg.com/t/Vintage-1960...nL/$(KGrHqR,!lQFHNKwRgwhBR0ynLRvSw~~60_57.JPG
Here's a smaller picture of that version:
Now here is how the 1967 Starfire IV pickups in my guitar look like (Picture copyright Ken Nash):
(the one with the hole in the middle shows which one is the bridge pickup due to different pole piece spacing for both)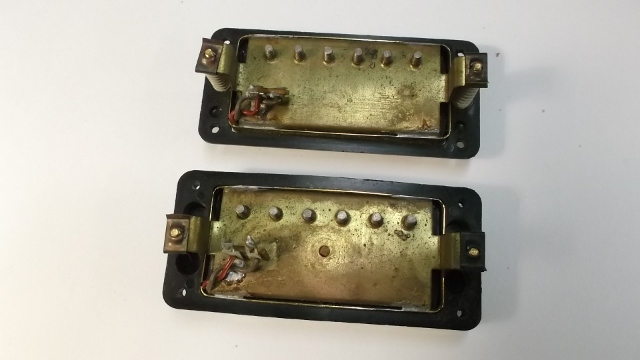 Now Ken Nash has even a 3rd version posted (since both have this hole in the middle they seem to be both bridge pickups).
What I mean here is the second row of visible non-adjustable polepieces in the lower pickup: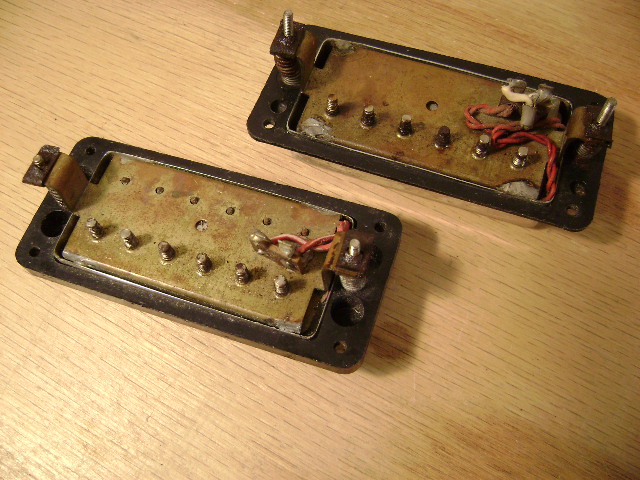 So my [Highlight]question is if those at least 3 different ground plate versions[/Highlight] (independent of neck or bridge version) [Highlight]were from different suppliers, or if they were used at different times, or in different DC Resistance versions maybe[/Highlight]? Maybe Hans could help to clarify this. I am just curious.
Ralf
Last edited: