Joined

Jun 24, 2020
Messages

169
Reaction score

180
Guild Total

2
There's so much in this story I'm not sure where to put it. But since I acquire a new Guild (well two - D is for Double) at the end of this, why not this section.
I've done a fair bit of guitar flipping in my time, though generally I thought I was past most of that. I should know better. I should also recognize that it comes in waves for me. Case in point, the last 24 hours or so. And I should say, this all started with sale of a Gretsch Duo Jet, which in some ways set this in motion. Anyway....
My good friend picked up a 63' SG Jr a few months back after my urging. I really had to push him. We'd learned that the guitar had been without strings for 30+ years and it had an unfortunate paint job. It was a roll of the dice husk. He was super hesitant and I had a feeling. In the end, I ended up trading one of his old amps (which he'd traded to a mutual friend) back to him. It's one he never should have let go. I ended up with the Jr, which I worked on for the next few weeks. Here's the before and after.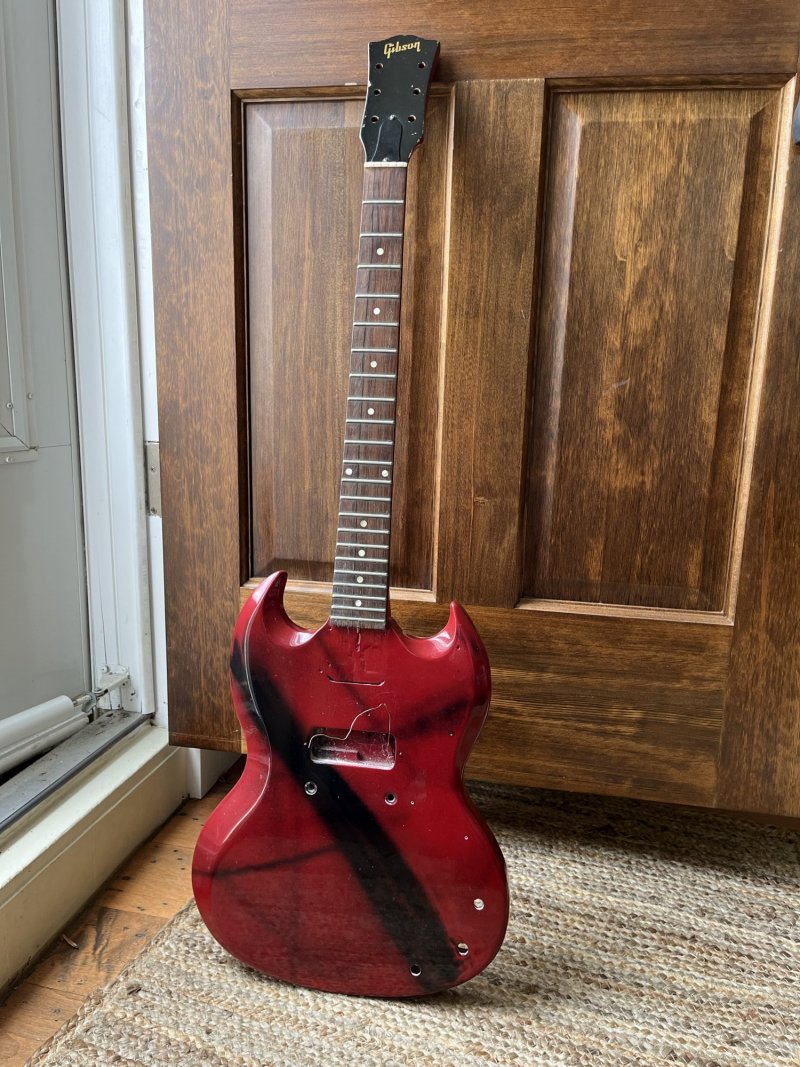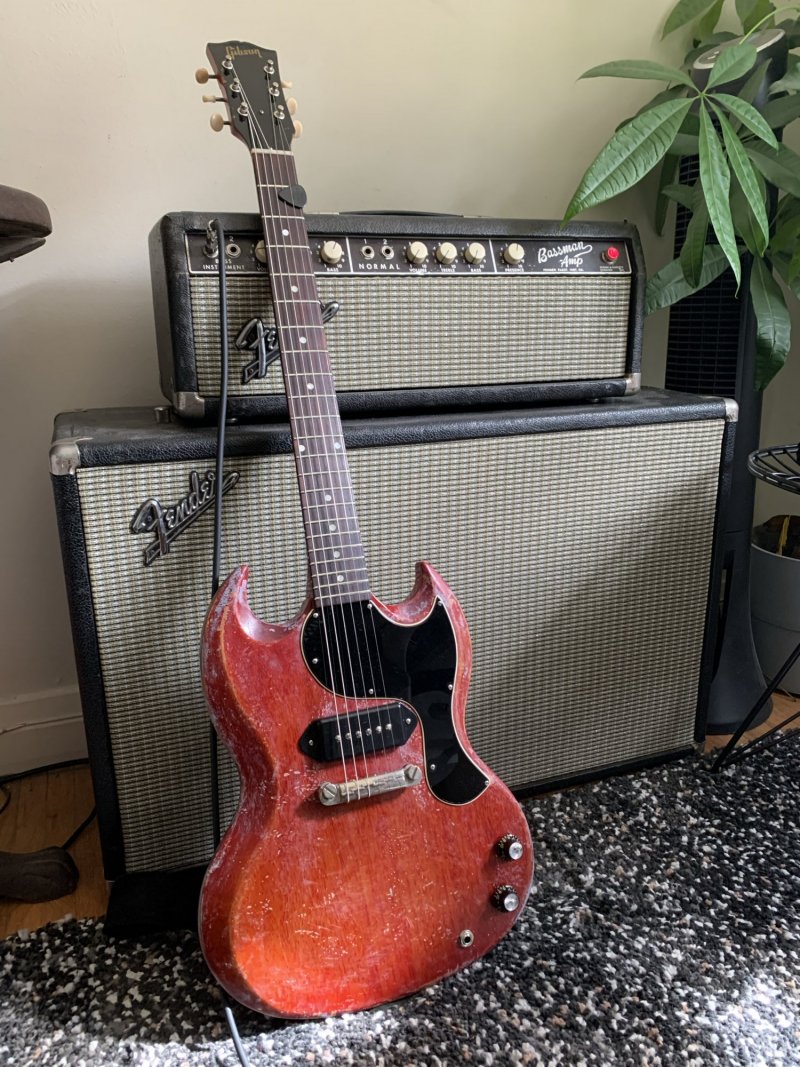 I'm a bit of a tinkerer. I am not a luthier. Not even close. But I feel like I see potential in pieces that have been neglected. Anyway, I love that guitar, but I honestly felt like it should reside with my buddy. He's on tour and this thing is a rockin' machine. It rings like a tuning fork. So we worked out a trade (guitars/amps in the family) for me to reacquire a Pro Reverb that went his way. Much like the SG for me, the Pro wasn't getting a lot of use, but man oh man does it love Guilds. So this happy pair was reunited.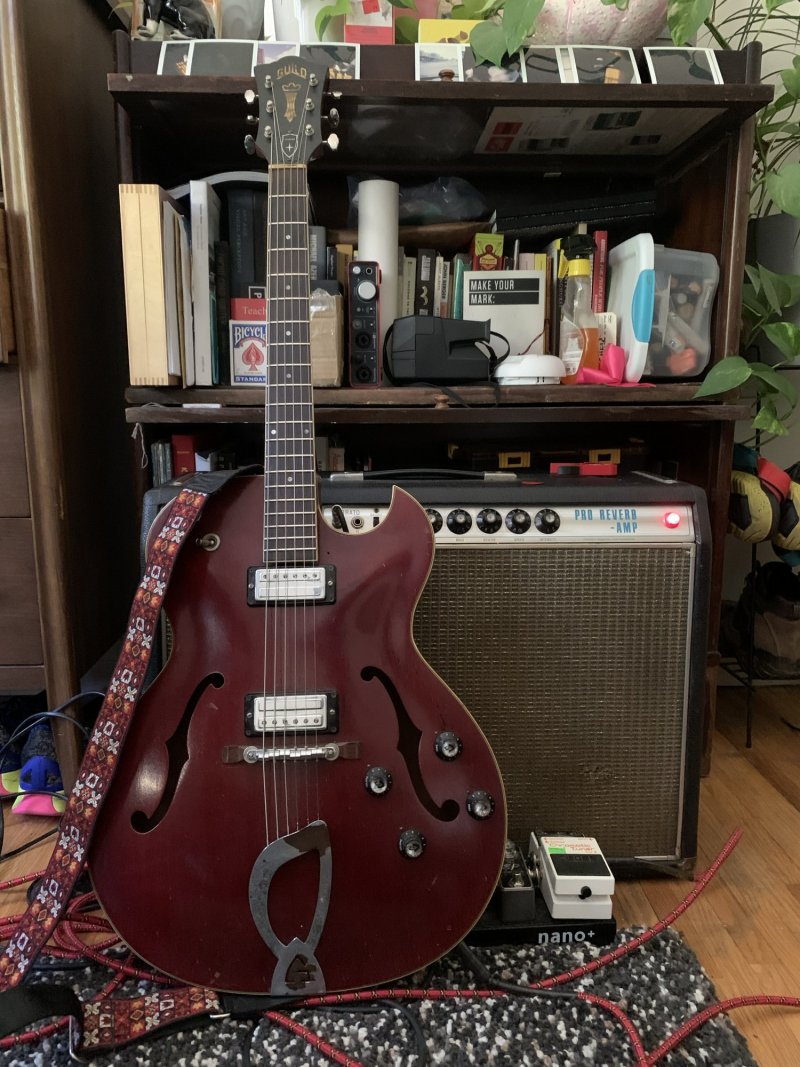 But wait, there's more.
A couple weeks ago I struck up a conversation with a guy on Reverb who was selling a 64' Starfire IV. Aside from an Aria that I owned for a couple days about a decade ago, I've never owned a center block hollowbody. I was intrigued. So he answered my 20+ questions and we set it in motion, after I saw the back of the neck. For me, a played guitar is a great guitar.
It was delayed by a day, but it's here and spectacular. I'm going to look for a Guild bridge (anyone have a spare) but otherwise I love it. It is so different than my Starfire II/III (a Guildsby is now on it) and that's exactly what I was hoping for. For me the question is, do I leave the Guildsby on the II/III or do I move it to the IV? Knowing the hole patterns are the same makes all of this way less stressful.
There's still more.
When I joined LTG one of my first posts mentioned this guitar. This is a 59' Guild M20 that a good friend and I have passed back and forth for years. Interestingly enough, I met this guy on another message board (OSG) over a decade ago. I remember when he purchased this, as I've saved the Instagram post from the store that listed it. I messaged him that day and called dibs if ever was to sell it. What began was a back and forth sales sequence every year or so.
Fast forward to last week and I mentioned to him I missed Lil Guild. It the same day I bought the Starfire and sold the Gretsch. He let me know that he had actually be toying with selling it for good and was about to message me about it. While I suspect he'll play it again (we've both promised that it is in our wills to one another) I do think it's with me for the foreseeable future. I couldn't be happier. Day to day, I don't know that there's a guitar out there that suits me more than this little gem.
So that's that for now. Thanks for reading along. And thanks for being a great/chill community.