Joined

Jun 18, 2009
Messages

4,095
Reaction score

2,722
Location
If nothing else, maybe I can at least stump Ralf!
Recently this guitar turned up on eBay, supposedly for sale in Japan.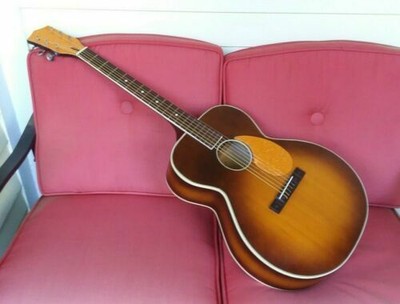 Find many great new & used options and get the best deals for Vintage Guitar Rare Kay 6116 Acoustic 1960 Gold Sparkle Georgiap at the best online prices at eBay! Free shipping for many products!
I have the same guitar. I don't mean the same model, I mean this exact guitar -- it's in its case about 15 feet from where I'm typing this in Cambridge, Massachusetts.
Same serial numbers, rubber-stamped in the same places, same sparkle pickguard and headstock overlays (which are after-market substitutions, not stock), including the same torn spot near the D tuner string shaft.
None of the pics are ones I took, nor were they taken in any spot I'm familiar with.
I bought the guitar at a yard sale a few weeks ago, and only discovered the eBay ad while trying to research it. (BTW, this is one of TWO ads on eBay for this same guitar; sharp-eyed LTGers will recall seeing the same Guilds being offered by different sellers for different prices on eBay too, always with the same photos and always in Japan.)
I was thinking maybe the person I bought it from had tried to sell it online at one time, and the pics were ones he took for his ad. But I'm not seeing it among any "sold items" on eBay or Reverb. (Can you find old ads for items that were offered but didn't actually sell?) And the guy I bought it from didn't seem to even know what brand it was.
I guessed it was a Kay or Silvertone at the time, and Kay seems right, though having researched it, the serial numbers don't match Kay's: while it looks in most respects like other Kay 6116s, which is how this seller identifies it, the 6116 model number is not stamped anywhere inside the guitar. (I'm also not sure how anyone would know for sure it was from 1960; supposedly Kay's serial number system was haphazard and no one can determine the exact year anything was made.)
Maybe the guy I got it from bought it from someone whose pics these are, and the guy I got it from didn't like the guitar enough to keep it and so just tossed it in with all the other stuff he put out in his yard sale? (Though if he liked it enough to buy it, you'd think he'd know the brand!)
And though the guitar was pictured in his Craigslist yard sale ad (along with pics of books, knick knacks, jewelry, coffeemakers and such) it appeared in only one too-close-to-tell-anything picture, which just showed a small portion of the body and nothing else.
It's obviously some kind of scam, but what kind?! The seller has mostly positive feedback, though one or two buyers said they were refunded for items not really in stock.
How does this kind of scam benefit the scammer?
Mystified.
Thanks!
Glenn
Last edited: